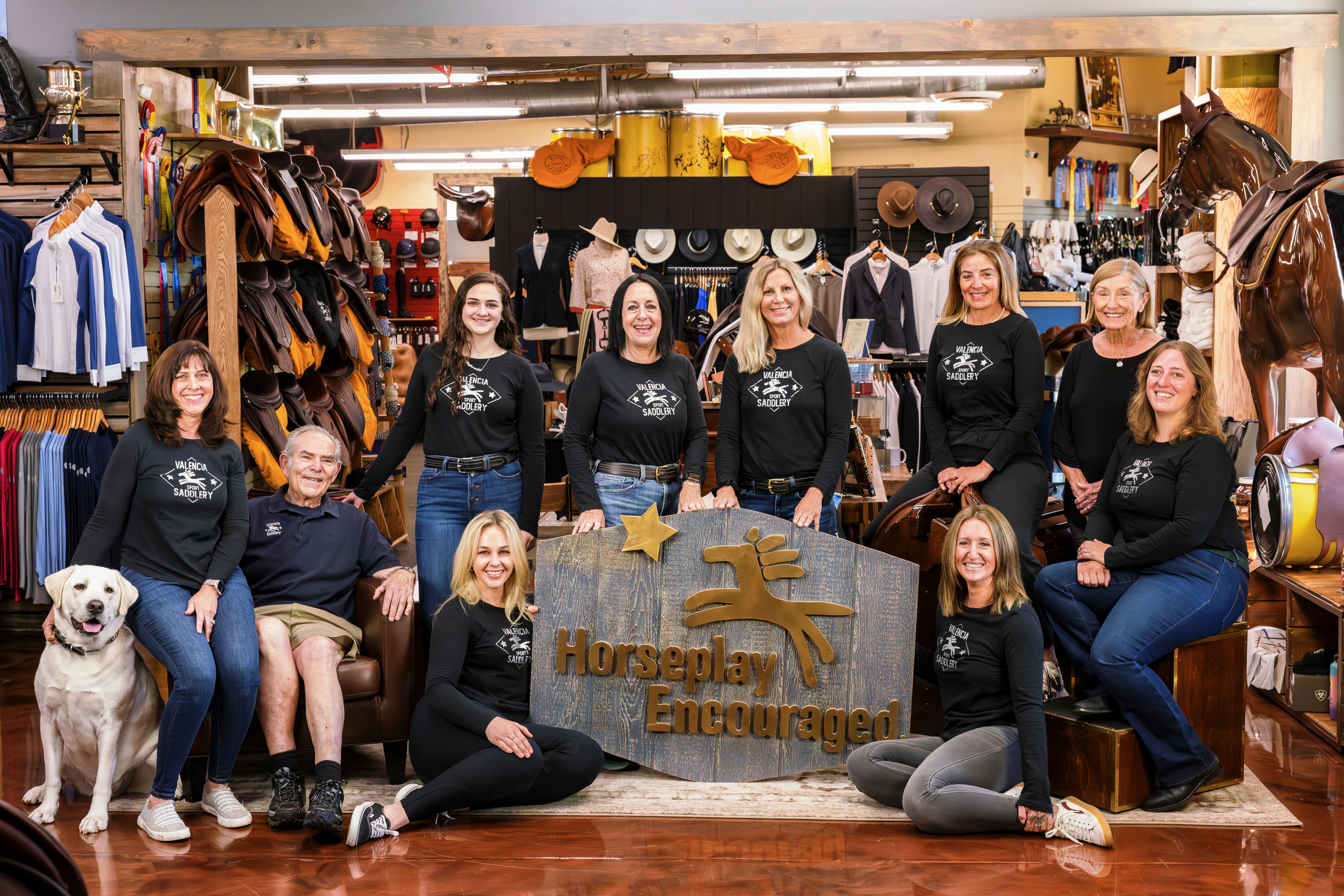 our mission is to help people
enjoy the fun of horses.
Valencia Sport Saddlery promises all customers—competitive show riders and casual riders, beginners or champions, kids or grandparents — your every visit will be enjoyable and satisfying. And most appreciated.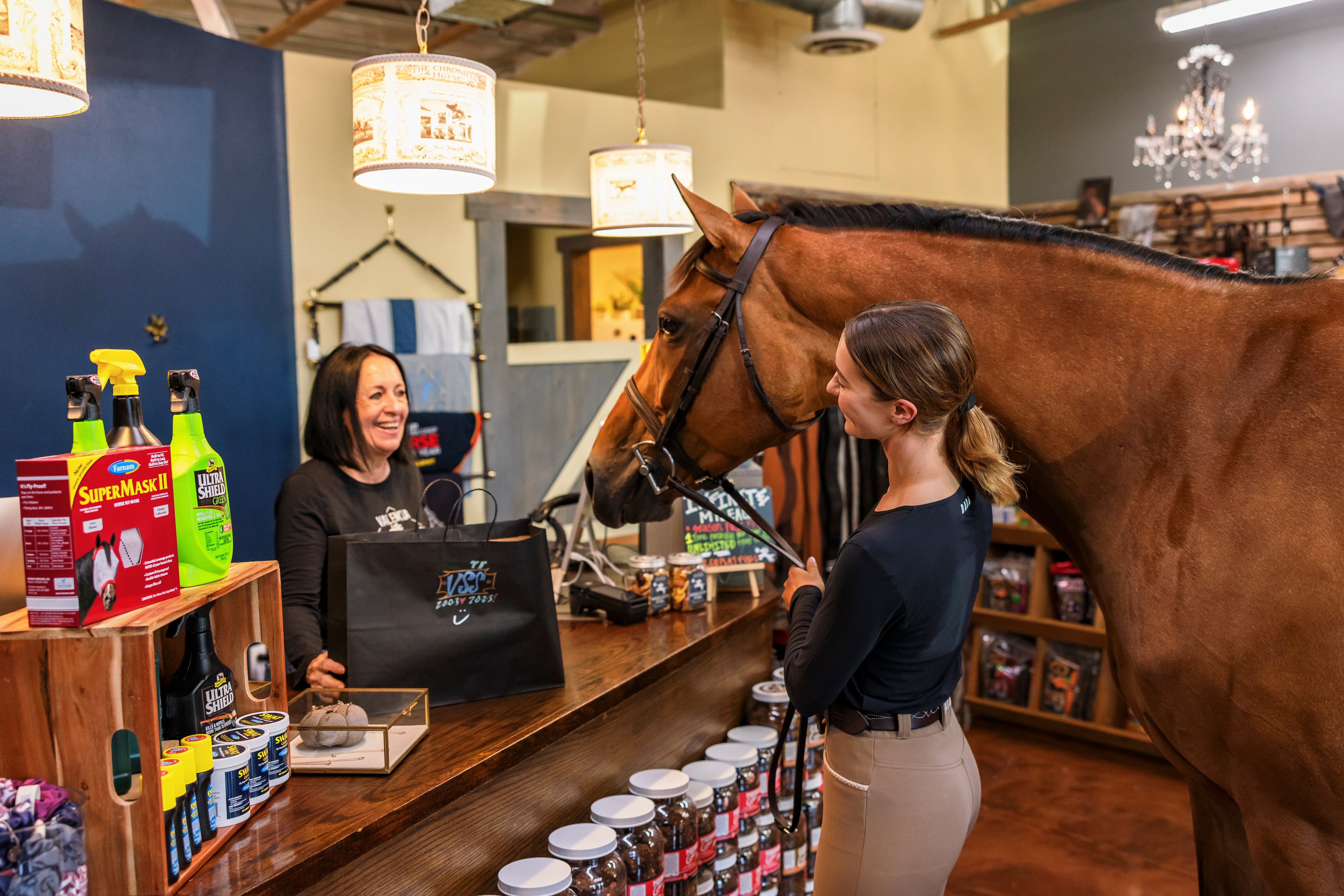 We love horses.
Everything about them.
Their smarts, their looks, their power and spirit.
We love that they trust us so much…and let us manage their affairs as best we can.
We are grateful when they show us their appreciation.
We're thrilled when they tell us they like us, too!
Our Expertise
Valencia Sport Saddlery's role is to provide the very best quality products and services to all members of the equestrian communities we serve.

We opened in 2003 to answer the needs of the Santa Clarita riding community. In 2013 we relocated to more spacious quarters in Lake View Terrace. With a centralized location and convenient freeway access, we offer even greater choice, and more shopping fun, to even more horse lovers. Today, we're gratified to have extended our reach throughout California. During the Fall and Spring show seasons, our satellite store serves competitors and spectators at the fabulous Desert International Horse Park in the Coachella Valley.

We continue to educate ourselves on product developments and industry innovations to bring our customers the very best products in quality, choice and value.

Keeping busy is part of the fun!

We travel regularly to the biggest equestrian trade shows, keeping abreast of evolving trends, product developments and the ever-changing landscape of equestrian sports. We shop and buy on these trips to bring our customers the best selection of products. We are alert to the newest and most innovative products; the freshest styles. We maintain close relationships with many of the world's foremost equestrian brands. We'll frequently be the first on the West Coast, or in the U.S., to stock their very latest offerings..

By developing trusting relationships with local horse trainers, we have been able to tailor our inventory to meet the needs and general preferences of specific barns and disciplines.

Owner Ecole Nauber provides saddle-fitting services and expertise of a very high order. Each of our sales associates have passed the helmet-fitting certification program by Charles Owen. At Valencia Sport Saddlery, you are assured the best helmet fit possible, no matter the brand or style.

Our crew, all avid riders, use and test many new products each year and are able to give customers direct and honest feedback. We attend seminars, product training events, and educational meetings to assure customers the best service and most knowledgeable information. We also offer similar learning opportunities to customers.

We maintains active memberships with the American Equestrian Trade Association (AETA), United States Equestrian Federation (USEF), United States Hunter Jumper Association (USHJA), California Professional Horsemen's Association (CPHA), Pacific Coast Horse Show Association (PCHA), Los Angeles Hunter Jumper Association (LAHJA), Tri-Valley Horse Shows Association, and others.

And Valencia Sport Saddlery is looking forward to being a bright and useful presence during the coming 2028 Los Angeles Olympics!